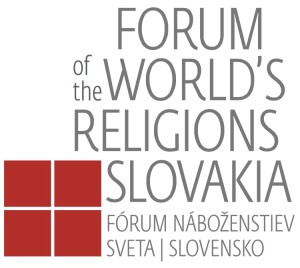 Our Mission
The Forum of the World's Religions – Slovakia is a non-governmental non-profit organization created to cultivate harmony among the world's religious, spiritual and cultural communities and foster their engagement with the world and its guiding institutions in order to achieve a just, peaceful and sustainable world.
Our Vision
Our vision is a world in which:
Religious and spiritual communities live in harmony and contribute to a better world from their riches of wisdom and compassion.
Religious, cultural fear and hatred is replaced respect and understanding,
People everywhere come to know and care for their neighbours,
The richness of human and religious diversity is woven into the fabric of communal, civil, societal and global life.
The world's most powerful and influential institutions move beyond narrow self-interest to realize common good.
The Earth and all life are cherished, protected, healed and restored.
All people commit to living out their highest values and aspirations.
Our Approach
Working closely with our partners, our organization seeks to promote interreligious harmony, rather than unity. The problem with seeking unity among religions is the risk of loss of the unique and precious character of each individual religious and spiritual tradition; this understanding is key to our framework.
Interreligious harmony, on the other hand, is an attainable and highly desirable goal. Such an approach respects, and is enriched by, the particularities of each tradition. Moreover, within each tradition are the resources (philosophical, theological and spiritual teachings and perspectives) that enable each to enter into respectful, appreciative and cooperative relationships with persons and communities of other traditions.
Our Opportunity
We live in a world of difference. Yet, we are interdependent. Nowhere is learning to live with difference more important than religion.
Too often, religion is misused as an instrument for division and injustice, betraying the very ideals and teachings that lie at the heart of each of the world's great traditions. At the same time, religious and spiritual traditions shape the lives of billions in wise and wonderful ways. They gather people in communities of shared beliefs and practices. When these diverse communities work in harmony for the common good, there is hope that the world can be transformed.
Our Activities
Our organization implements and supports activities aimed at deepening the work of churches in civil society in order to strengthen its moral foundations, promote democracy and practically help people in search of spiritual guidance and solutions in life's crisis situations.

In cooperation with the Islamic Foundation, the Jewish Youth and a collective of Christian priests, we have visited 14 Slovak high schools featuring a rabbi, a priest, and an imam in conversation about religion and peaceful coexistence. Discussions with students were complemented with meetings with teachers. Our public events have sparked record interest. The last event in Bratislava completely filled the venue of the Pálffy Palace. Insiders described the event as a "new stage" in interfaith dialogue in Slovakia. Large numbers of young people showed up, which is very encouraging. Major news media have covered our events. Mobilizing 400 leaders and citizens, we have issued a public call on the Prime Minister to stop offending people – especially Muslims – for their religion. Most importantly, questionnaires show that our discussions have been effective in dispelling the most common myths about Judaism, Christianity, and Islam. All in all, there is great appetite and momentum for interfaith. We are looking for partners and continued support to allow us to seize the momentum and expand the use of dialogue to enhance understanding and cooperation. This would greatly benefit not only the minority groups in Slovakia, but all voices for democratic change, inclusiveness and solidarity.

More than 150 participants representing 20 nations, 3 continents, 7 world religions as well as other religious, spiritual or humanist traditions, met in Nitra, Slovakia, on 25 July 2016, to jointly address some of humanity's most vexing problems. The Central European Interfaith Forum (CEIF 2016) convened in Slovakia's ancient cultural and spiritual centre for fascinating interfaith and civic exchanges in the search for solutions to the growing ethnic, cultural and religious tension in Europe. CEIF 2016 took place during the first month of the Slovak Presidency of the European Union, under the auspices of Slovak President H. E. Andrej Kiska.
CEIF has aimed to strengthen interreligious and civic dialogue in the search for solutions against the background of growing ethnic, cultural and religious tension in Europe. The alarming trends of nationalism, extremism and xenophobia in our societies, as well as the complex economic, social and political issues the world has to confront today, require dialogue between the spiritual authorities, communities and the guiding institutions of this world. This is the kind of dialogue, followed by practical action, that the Central European Interfaith Forum aims to inspire. CEIF 2016 addressed a number of key issues:
Migration and Integration

Poverty and Income Inequality

Peace and Security

Interreligious Dialogue: What? Why? How?
Accompanied by a policy session on poverty, a lively NGO Forum and a sweeping photo exhibition titled "I Saw All Churches of Slovakia", the Forum culminated with an Interfaith Meeting in Prayer and Thought.
Please read the Nitra Statement from the Forum here. Read more about the Forum on this link.